Opened March 2005 at the cost of over £500,000, Rampside Village Hall is a purpose built recreation centre, meeting hall and events venue with full disabled access, car park and grassed area suitable for outside seating and barbecues.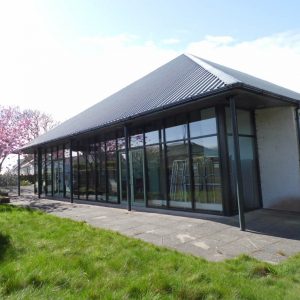 The hall is located in the centre of Rampside village on the Furness peninsula, just south-east of Barrow-in-Furness. Rampside village is less than ten minutes from Barrow by car and can be easily accessed by public transport; the hall is situated on the main bus route in the village with services to and from the town. Visit our contact page to locate us on the map.
Private Hire, Events and Recreational Activities
The Main Hall is licensed to entertain up to 200 people with a stage, full sound system, lightly sprung flooring and underfloor heating. A bar facility can be provided for evening functions or at other times on request. The hall also hosts a full-sized badminton court with height built to club standard.
Catering Facilities
Rampside Village Hall has extensive catering facilities and equipment. The kitchen has two independent electric cookers, five gas burners, a microwave, a fridge & freezer and crockery and cutlery for place settings for up to 100 people.
Meeting Room
The hall's comfortable meeting room can be used as one large area, or, using sliding doors, be split into two smaller ones. The larger meeting area has been fitted with a sound loop system.
Hire the Hall
If you would like to book Rampside Village Hall for an event, function or special occasion please visit the hire the hall page to learn more. If you would like to know more about facilities that the hall has to offer, including access information, availability or if you have any special requirements, please get in touch via the contact page.